History of Farmland Preservation in Polk
The Polk County Farmland Preservation Program Ordinance was adopted in 2002 by the Board of Commissioners after a grassroots committee explored the matter in 2000. The Enhanced program was adopted in 2006. One of the purposes of the Polk County Office of Agricultural Economic Development is to preserve farmland.
Both the VAD and EVAD programs preserve farmland for future generations, but the EVAD program also allows members to take advantage of cost share programs. Both programs may provide extra protection from nuisance lawsuits on properly managed farms.
The program engenders pride in our local agricultural community, and signage "officially" labels your preserved farm.
Read the VAD Ordinance and EVAD Ordinance for more information.
Program Basics
2 programs

Voluntary Agriculture District (VAD)
Enhanced Voluntary Agriculture District (EVAD)

Free to join
10 year program
Must be in or qualify to be in present use value taxation
What is Present Use Value?
Present use value is a tax classification for land in agricultural, horticultural, or forestry production. "The value of farmland is taxed for its value as a farm rather than its potential value as residential or commercial property.  (N.C.G.S. § 105-277.4.)  The practical effect of this is that the property is valued at a lower rate, and therefore the owner's land is taxed at a lower rate." See: http://www.ncagr.gov/aglaw/present_use_value.htm
Qualifications for Present Use Value are as follows: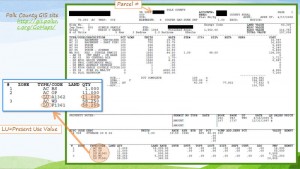 Minimum acreage requirements based on usage:

Horticultural land

(fruits, vegetables, nursery, flowers)-5 acres

Agricultural land

(crops, animals)-10 acres

Forest land

(commercial growing of trees)-20 acres

Forest land requires management plan
Average gross income from the land of $1,000 for past 3 years
Applications filed in January
To determine if your property is in Present Use Value, see the Property Record found through the Polk County, NC GIS website. Find your parcel, then scroll down to see the link for "Property Record Card."
VAD vs. EVAD
Both VAD and EVAD:

Must be in present use value taxation
Conservation plan or forestry management plan
Can subdivide up to 3 times
10 year programs for farm use ONLY
Must be approved by Farmland Preservation Board
Boosts the Right to Farm Law
Free to join and no recording fees

VAD Only

10 year

revocable

agreement

EVAD Only

10 year

irrevocable

agreement
May receive up to 90% for cost share programs
Preferential opportunities for state and federal programs
Application and more information
To apply for Farmland Preservation, or for more information, call the Office of Agricultural Economic Development at 828-894-2281
Fill out an application and review a brochure for more information:
District Conservationist visits and reviews property and creates conservation plan, if wanted or needed
Application reviewed and approved by Ag Advisory Board
EVAD enrollment recorded on property deed

After 10 year period is up, agreement automatically renews for another 3 years