The Mill Spring Agricultural Center was born out of the old Mill Spring School, a 30,000 square foot building abandoned in 1998 after serving as a primary and high school since the mid 1920s. See More of the School's History.
Over the past 7 years and through over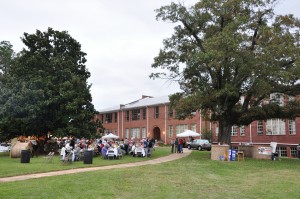 1,000 volunteers and counting, the building is slowly being restored into a beacon for its community. The Mill Spring Ag Center is owned and operated by the Polk County Soil and Water Conservation District and is not tax funded. Funding for operation is solely derived by refurbishing and then renting out old classrooms as offices and through fundraisers, donations, and grants.
The Ag Center features many amenities and programs:
Meeting & Event Space Available (we offer two distinct meeting areas for groups large and small, able to be rented by the hour or the day)
Commercial Office Space (spaces vary from small one to two person offices all the way up to large spaces available for artist or small manufacturing)
Auditorium (available for rent and for use by the community for plays, graduations, speakers, movies, and more)
Weddings & Other Special Events
Outdoor Kitchen Rental (featuring gas and charcoal grills)
For more information about the Ag Center please contact Reda Harvey at 828-436-0029